Project Description
Discourse is a site-specific music, community engagement and social change initiative led by Flutronix, that aims to engage communities across the country in conversation with one another, and to present their shared experiences in an evening-length performance. The impact of rapid political changes has many populations experiencing feelings of fear, uncertainty and frustration, resulting in a divided America. Discourse is an artistic response to our collective need to examine interconnectivity.
Flutronix's objective with this project is to encourage conversation as a way of fostering deeper community ties, while cultivating an artistic practice that showcases the value of individual stories. Commissioned by Carolina Performing Arts through the University of North Carolina, Discourse currently includes partnerships with the Southern Oral History Program, the Marian Cheek Jackson Center, and Reveal News, in addition to faculty and student led organizations. The culminating work, staged and directed by Charlotte Brathwaite, will feature present day narratives and history, with voices sourced from community gatherings and archival recordings, combined with an expanded ensemble of acoustic and electronic instruments. The musical experience will be paired with an interactive sound installation that can be engaged with outside of the performance. Discourse will premiere in Chapel Hill, NC, in the 2019-20 season, and Flutronix aims to deepen the impact of the work by replicating this creative, community-embedded activity in cities nationwide.
Community Partners
Southern Oral History Program
Marian Cheek Jackson Center
Reveal News
Related Events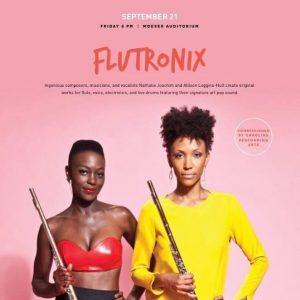 Flutronix kicks off their two year residency at Carolina Performing Arts with a live performance on September 21 at 8pm. The duo will present an evening of their signature urban art pop sound, featuring original works for flute, voice, electronics and live drums, best described as "a unique blend of classical music, hip-hop, electronic programming and soulful vocals reminiscent of neo-R&B stars like Erykah Badu." (The Wall Street Journal).
The program will also feature a preview of Discourse, which uses artistic initiative as an impetus to engage communities in conversation with one another and ignite social change. Flutronix will be joined by acclaimed drummer and Queens, NY native Joe Blaxx, known for his work with iconic artists including Stevie Wonder, R&B sensation Bilal, legendary hip-hop producer Ski Beatz, and jazz trumpeter Maurice Brown.