Project Description
Discourse is a site-specific music, community engagement and social change initiative led by Flutronix, that aims to engage communities across the country in conversation with one another, and to present their shared experiences in an evening-length performance. The impact of rapid political changes has many populations experiencing feelings of fear, uncertainty and frustration, resulting in a divided American nation. Discourse is an artistic response to the collective need to examine differing perspectives and ignite social change.
Flutronix's priority is to collaborate with a coalition of community leaders who recognize their constituents' desire to share their stories, and are eager to facilitate dialogue across lines of race, religion, gender and privilege. A team of journalists and writers will be enlisted to collect these exchanges, allowing for responsible documentation and retelling of these stories. Discourse will be a series of culminating musical events developed by Flutronix. Every performance will incorporate universal issues, as well as a uniquely customized segment in each city that will include stories gathered in community forums. Discourse has been commissioned by, and will be premiered in the 2019-20 season at Carolina Performing Arts in Chapel Hill, NC.
The goal of Discourse is to address an increasingly urgent need for dialogue. The most recent presidential election revealed a massive disconnect between Americans. By cultivating an encouraging practice of openness and understanding, Flutronix hopes to bridge this divide and increase interpersonal awareness leading up to the 2020 presidential election and beyond.
Community Partners
Southern Oral History Program
Marian Cheek Jackson Center
Reveal News
UNC Chapel Hill Faculty and Students
Related Events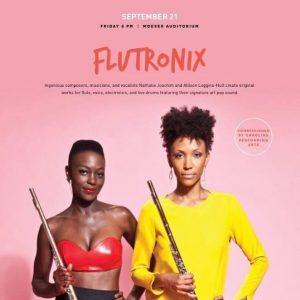 Flutronix kicks off their two year residency at Carolina Performing Arts with a live performance on September 21 at 8pm. The duo will present an evening of their signature urban art pop sound, featuring original works for flute, voice, electronics and live drums, best described as "a unique blend of classical music, hip-hop, electronic programming and soulful vocals reminiscent of neo-R&B stars like Erykah Badu." (The Wall Street Journal).
The program will also feature a preview of Discourse, which uses artistic initiative as an impetus to engage communities in conversation with one another and ignite social change. Flutronix will be joined by acclaimed drummer and Queens, NY native Joe Blaxx, known for his work with iconic artists including Stevie Wonder, R&B sensation Bilal, legendary hip-hop producer Ski Beatz, and jazz trumpeter Maurice Brown.